Tuesday 11 April
Full Moon in Libra – Sun in Aries
Pink MoonMEDITATION with Toks Coker
at 7pm London
I just love the picture above of the two gentlemen laughing with the ease of Libra and the passion of Aries. The pictures captures a thousand words for me.  What words spring to mind for you?  What is your thinking, feeling, visual response? Do you hear the laughter? What emotions stir up in you?  So lovely to see the easy of relaxed friendship or father/son energy. This picture immediately brings me joy and gives me joy.
Happy Full Moon in Libra and Sun in Aries / Pink Moon
Happy Hanuman Jayanti / Monkey God Birthday (Hinduism)
First Day of Passover/Pesach (Judaism)
Actual time of Full Moon in London was 07:09 BST (7.09am)
Element: Air/Fire
Libra is Air
Aries is Fire
We gather at 7pm tonight 11 April
https://www.eventbrite.co.uk/e/the-full-moon-in-libra-alchemy-gathering-tickets-29208320874
11 APRIL:  As we can see this Full Moon marks the beginning of many things from around the world. We have Easter, Passover, Hanuman's birthday and not to forget people's birthday. We see cherry blossoms, trees blooming pink flowers, pink flowers everywhere…. Is spring here now?  ahhahahhaha
FULL MOON ENERGY:  Mother Moon is pregnant with life. There is power and magic in the air. The moon is round, making the atmosphere pregnant with emotion and desire. The cup is full and the cup 'runneth' over.
Like a full cup, which can spill if not held properly, the emotions caused by the pull of the Full Moon can spill over.  As such, it is a time full of emotional energy which is very high.  These emotions may or may not be contained or controlled. You may try to restrict them and find that you cannot.  They simply spill over.
ACTIONS:  So how are you feeling with this Full Moon?  How are you thinking? How are you BEing? How are you behaving?
1. Are you aggressively marketing yourself on other people's time line without their permission?
2. Are you 'stealing' ideas that are not yours and pretending they are yours?
3. Are you giving credit to your 'teachers' or 'helpers' or 'supporters' in your life, your business, your relationships, your study, etc.?
4. Are you saying Thank You?  "I thank you …………. (name of person) for all your help you have given me (all these years) in ………………. this area of my life."
5. Have you moved on and forgotten to look back to say thank you to all those whose shoulders or faces you stood on? How do you justify the actions you have taken?
PERCEPTION:
What you perceive as your reality depends on what you are feeling. At the time of the Full Moon, this can cause a lot of confusion, if not checked. The gravitational pull of the Sun and Moon on our beloved Earth set these extremes up. This can be a hard time to find balance. A time of extremes. This Full Moon is about finding
BALANCE:
in your life on all levels. It is a time to face these varied emotions.  Everything is amplified with the energy of the Full Moon e.g. emotions, passions, love etc. You may experience strongly charged emotions with abundant feelings, sometimes uncontrollable feelings.  These uncontrollable feelings can lead you to lose control in a positive or negative way. Remember – the choice, as always, is yours.  SCALES:  How balanced are you going to be?  How balanced have you been?  How out of balance are you on a scale of 1-10, of which 10 is completely out of balance and 1 is OK?
MIND & CHAOS Vs. HANUMAN:  What is on your mind this Full Moon?  Is there chaos or peace? What are you creating from that chaos / peace?  Is it possible to create peace from chaos?  Is it possible to create chaos from peace? As you sit in the chaos of your mind how are you feeling right now?  What chaos are you in right now?  What turmoil of the mind bothers you?  How is the wheel turning in your mind?  This really is a time to look at your MIND SET.
HANUMAN: Let your agitated mind be transformed with the energy of HANUMAN, Monkey God.  His LOYALTY, devotion and selfless dedication to Rama saw him saving the kidnapped Sita, wife of Rama. He helped Lord Rama defeat Ravana in war after Ravana took Sita. Let your selfless dedication to the development of your spiritual mind save and transform you. Let the energy of this wonderful Full Moon activate the loyalty you need to believe in your greatness in simplicity. Amen. You can click the picture and and listen to nice Hanuman music.
WILLING:  Are you willing to listen?  Are you willing to learn?  Are you willing to be humble?  Are you willing to ask for help?  Are you willing for change? Are you wiling for more? Are you willing to connect with your Soul? Are you willing to allow yourself to connect to your Soul?  Are you WILLING and ready to embrace the greatness in you and all that you do?
AIR & FIRE: Welcome to this fabulous Full Moon, a most auspicious of Full Moons ready to twist and turn, ready to move and shake, ready to fly and jump. Just like the element Air and Fire. The energy of Air makes us feel expansive. The energy of Fire makes us leap for joy.  As you leap for joy in the expansiveness of your life let us celebrate you and all that you stand for that is great, wonderful, magnificent and charming. Let us celebrate what is different about you tonight at the Moon Gathering. Let the Fire melt away and soften any hardness in you so you are more pliable this Full Moon.  You are remodelled with this Full Moon into the wonderful Fully Radiant You.  Allow your radiance to shine and expand around you so the element AIR can fly and show you off in the wonderful mirror that is your Soul and your Spirit and then to the Cosmos of the Unity Consciousness.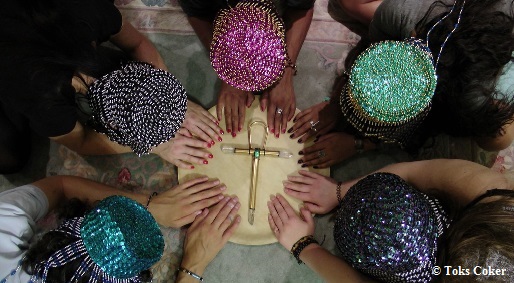 Why gather with Toks Coker, Queen of Alchemy?
1. You activate your own individual power and portal.
2. Remember: Once you take care of yourself – once you attend to yourself – you can attend to others with ease.  For example, in an airplane they always tell you to put your face mask on in an emergency before you help others – your children, loved ones, etc.  Why?  Because if you run out of oxygen because you choose to save them first you may actually not save them at all as you run out of oxygen and you are dead and so are they.  Look after yourself first and then you can face the world.
3. You experience your own healing and insight You receive healing love.
4. You give yourself permission to bloom and flower. You celebrate your life, your expansion, and your completions.
5. You allow yourself to be seen energetically and physically in a safe sacred space.
6. You dance your greatness into being using fire movement in air on a multi-dimensional level.
7. You enjoy a ritual of celebration in a healing circle created by Legions of Light.
8. You become part of the creative energy in making a sacred crystal matrix altar for healing the world.
9. You send healing to the world with a joyous heart. You ignite your own expansion with love for the world.
10. You feel elated in your own grandness of Spirit and Soul. You are in a sacred space that allows your gloriousness.
11. You rest, relax and nurture yourself for a change. You celebrate you for a change.  You honour you for a change.  You recognise you for a change.  You restore your energy level.
Some Quotes
1. Without forgiveness life is governed by …. an endless cycle of resentment and retaliation.  Roberto Assagioli
2. The superior man perseveres long on his course, adapts to the times, but remains firm in his direction and correct in his goals. I Ching
3. The wind should rest and think……….A playful wind stops when it wants to.  Lines from the film House of Flying Daggers

Albert Einstein Quotes
1. Imagination is more important than knowledge.

2. The important thing is not to stop questioning. Curiosity has its own reason for existing.

3. Anyone who has never made a mistake has never tried anything new.

4. Try not to become a man of success, but rather try to become a man of value.

5. Two things are infinite: the universe and human stupidity; and I'm not sure about the universe.

6. Science without religion is lame, religion without science is blind.

7. No problem can be solved from the same level of consciousness that created it.

8. Everything should be made as simple as possible, but not simpler.

9. The most beautiful thing we can experience is the mysterious. It is the source of all true art and science.

10. I have no special talents. I am only passionately curious.
You can read more about his life on https://en.wikipedia.org/wiki/Albert_Einstein
TESTIMONIALS
"This woman is pure magic. She is gracious, she is kind, she is generous. She helped me through many difficult and tight moments in my life in the appropriate way. She used whatever technique was required for each issue. She has a knowing and I want to thank her many times over." Lisette
"Worth making Toks' meditations every time. Thank you for helping me see, take right actions and change my thought patterns in this difficult/shifting times of the web of life." Genevieve Capovilla
"The depths of me were moved. The depths of me were changed. My depths were soothed with the love of light………My depths, say, "Thank you."" Yanni Konstantinopulos
"I loved the fact that we set up the Sacred Crystal Portal together. We shared the energy.  I love your room.  So many things to look at and so many sacred things to engage with.  There are many things we can relate to. Thank you very much." Claire

The Naked Truth of Life
There was a man with four wives. He loved his fourth wife the most and took great care of her and gave her the best.
He also loved his third wife and always wanted to show her off to his friends. However, he always had a fear that she might runaway with some other man.
He loved his second wife too. Whenever he faced some problems, he always turned to his second wife and she would always help him out.
He did not love his first wife though she loved him deeply, was very loyal to him and took great care of him.
One day the man fell very ill and knew that he is going to die soon. He told himself, "I have four wives. I will take one of them along with me when I die to keep me company in my death."
Thus, he asked the fourth wife to die along with him and keep him company. "No way!" she replied and walked away without another word.
He asked his third wife. She said "Life is so good over here. I'm going to remarry when you die".
He then asked his second wife. She said "I'm Sorry. I can't help you this time around. At the most I can only accompany you till your grave."
By now his heart sank and he turned cold. Then a voice called out: "I'll go with you. I'll follow you no matter where you go."
The man looked up and there was his first wife. She was so skinny, almost like she suffered from malnutrition. Greatly grieved, the man said, "I should have taken much better care of you while I could have!"
Actually, we all have four wives in our lives.
1. The forth wife is our body. No matter how much time and effort we lavish in making it look good, it'll leave us when we die.
2. The third wife is our possession, status and wealth. When we die, they go to others.
3. The second wife is our family and friends. No matter how close they had been there for us when we're alive, the furthest they can stay by us is up to the grave.
4. The first wife is our soul, neglected in our pursuit of material wealth and pleasure. It is actually the only thing that follows us wherever we go.
What will it profit a man to gain the whole world and lose his own soul….
One of the best messages I have received – please share.
Invocation Blessing for the Full Moon
Happy Full Moon in Libra and Sun in Aries / Pink Moon
Happy Hanuman Jayanti / Monkey God Birthday (Hinduism)
First Day of Passover/Pesach (Judaism)
We Greet You
With the Energy of Air and Fire
Releasing You From Any Form of Slavery
Freeing and Liberating Your Mind, Body, Spirit and Soul
We Greet You
We Greet You
With the Light of Recognition
In the Middle of the Chaos
Centred and Balanced in the Overwhelm
We Greet You
We Greet You
With the Power of Your Inner Knowing
Activating Skills of Great Standards
In the Pioneering Energy of You
We Greet You
We Greet You
With the Great Improvement Made in this Life
Making Great Decisions that Honour Your Process
Empowering You to Live Your Purpose
We Greet You
We Greet You
With Your Life Time Gatherings
Gatherings of Friendships, Family and Loved Ones
Gatherings of Business, Colleagues and Networks
We Greet You
We Greet You
With Hanuman, Monkey God
Son of Vayu, God of the Wind
Incarnation of Lord Shiva
We Greet  You
We Greet You
With Lord Shiva, God of Meditation, Arts & Yoga
Trinity Aspect: Brahma/Creator, Vishnu/Preserver, Shiva/Destroyer & Regenerator
Shakti-Shiva Female-Male Balanced Energy
We Greet You
We Greet You
With the Atman of the Universe
Anchoring and Revealing Your Inner Self, Your Inner Soul
Celebrating Your True Self through Self Knowledge
We Greet You
We Greet You
With the Quiet Qualities of Hanuman
Inner Strength, Inner Power, Self Power, Will Power
Standing Strong in Your Gloriousness
We Greet You
We Greet  You
With Expansive Life Force, Prana Energy, Atma-Shakti
Opening to More: Daring Courage, Bold Confidence and Energetic Commitment
Revealing: Fastness like the Wind, Speed and Quickness
We Greet You
We Greet You
With the Full Moon in Libra & Sun in Aries
Shining Magic and Balance to Your Full Potential Today
Calming You in the Rainbow Magnificence of You
We Greet You
We Greet You
With Your Accomplishments Today and Always
Knowing You Will Manifest More from Today
Acknowledging Your Soul Spirit Cosmic Power
We Greet You
We Greet You
With the Sacred Unfolding of Your Life
Pockets of Air Waves Unfolding Before You
Manifesting in this Glorious Revelation Now
We Greet You
We Greet You
With the Greatness of You
Empowering Yourself in Your Doing Now
Gifting Yourself a Present in the Now
We Greet You
We Greet You
With Your Balance
Your Strength Your Smile Your Soul
Your Connections Your Graciousness
We Greet You
We Greet You
With Your Sacred Self of Balance
Anchoring the Male & Female in You
In the Perfection & Wholeness of You
We Greet You
We Greet You
With the Glorious Sunshine
Shining its Radiance
Reflecting Your Radiance
We Greet You
We Greet You
With the Full Moon Anointment
Blooming Above Your Crown Chakra
Connecting You to Source
We Greet You
We Greet You
With the Flowing Moving Energy of Air
Supporting You Internally and Externally
Flying High Breathing the Breathe of Life
We Greet You
We Greet You
We Greet You
We Greet You
Channelled by Toks Beverley Coker for the Full Moon in Libra, 11 April 2017